Product:

16337

Product:

16337

"Cheap Ass" Cigars !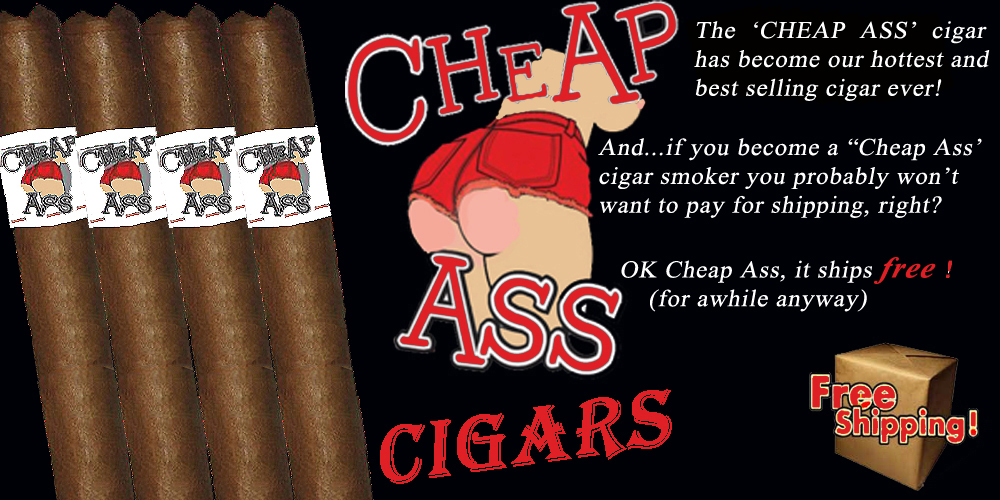 "Cheap Ass" Cigars have become our best seller ever! Introduced as the "frugal" minded alternative to more costly smokes, the Cheap Ass cigar has made a believer of us here at FactoryDirectCigars.com. Originally we were somewhat skeptical that the name itself would cause cigars lovers to shy away...boy! were we wrong! After multiple phone and email requests from long standing customers to stock this cigar, we naturally complied. We sold out our first shipment in two days flat. Doubled our order and are again selling like hotcakes.
It's not exactly a Padron Anniversario, but it's also not a $20 stick either. Rather, this Cheap Ass cigar is finished with a nice Connecticut Shade wrapper, Dominican and Honduran medium and long fillers and is nicely constructed, dependable consistency and smokes above it's "frugal" price range. Great everyday smoke !

And because your a "Cheap Ass Cigar smoker you probably don't want to pay for shipping, right? OK Cheap Ass... it ships free... for awhile that is.

| | |
| --- | --- |
| | |
Factorydirectcigars does not sell tobacco or tobacco related products to anyone under the age of 21. If you are under the age of 21 please leave this website immediately. Factorydirectcigars is not responsible for misprints on the web site, we encourage you to email customer service with any questions prior to purchasing.