Product:

13931

Product:

13931

South Beach Flavored Cigars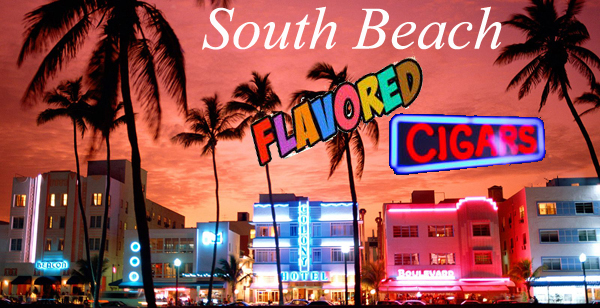 "South Beach Flavors" from the plantations of master blender and longtime premium cigar maker, Nino Vasquez, have become the cigars of choice along the famed nightclub strip of Ocean Blvd. in South Beach and Little Havana. Nino has introduced an exciting full line of flavors in his latest creation of fine cigars. Not the overpowering strong flavoring so often found in other flavored cigar brands, but rather a more subtle, refined aromatic approach. With every South Beach Cigar, you and those around you, will enjoy the delightfully light aromas given off by these expertly blended Dominican premium cigars. You may never go back to 'regular' cigars again!
South Beach Flavors...
#1

25 Ct. (5x42)
Vanilla Macadamia

#2

25 Ct. (5x42)
Mojito Rum
#3

25 Ct. (5x42)
Georgia Peach

#4

25 Ct. (5x42)
Strawberry Cake

#5

25 Ct. (5x42)
Honey Maple

#6

25 Ct. (5x42)
Creme Brulee

#7

25 Ct. (5x42)
Mocha Latte

#8

25 Ct. (5x42)
Cherry Jubilee


#9

25 Ct. (5x42)
Sambucca

#10

25 Ct. (5x42)
Psychedelic *
#11

25 Ct. (5x42)
Chocolate

#12

25 Ct. (5x42)
Mango

#13

25 Ct. (5x42)
Key Lime

#14

25 Ct. (5x42)
Pina Colada
"Psychedelic". This is the exact same cigar as the originally named Nag Champa with no
changes made to the cigar. Why the name change? Good question. Ridiculous!

| | |
| --- | --- |
| | |
Factorydirectcigars does not sell tobacco or tobacco related products to anyone under the age of 21. If you are under the age of 21 please leave this website immediately. Factorydirectcigars is not responsible for misprints on the web site, we encourage you to email customer service with any questions prior to purchasing.