Product:

12570

Product:

12570

Cheap Bastard Cigars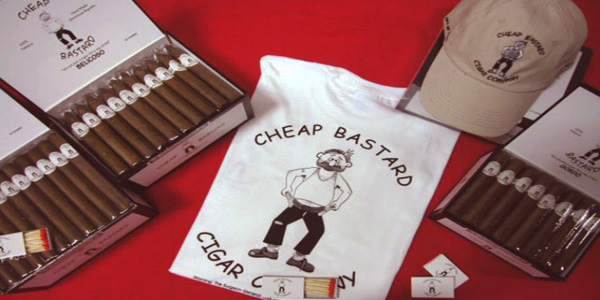 Cheap Bastard Cigars

calling all "cheap bastards"....your ship has arrived!
Is this how you're feeling these days friend?
Feelin' like someone picked your pocket?
Has your world gone topsy turvy?
Feelin' like you've been forced into becoming a...
Cheap Bastard?

Rejoice friend! Lift your head and be proud to join the ranks of other Cheap Bastards!
Your ship has arrived!
Your Cigar Ship that is.

"Cheap Bastard Cigars"

"It's not just a cigar, it's a way of life!"

Cheap Bastard Cigars to the rescue. 100% hand made Dominican Republic cigars rolled in the traditional Cuban Sandwich style. With a silky Sumatra outer wrapper and a special blending of three select tobaccos of medium and long filler, the Cheap Bastard Cigar delivers a mild to medium smoke with lot's of flavor, smoothness, even burn and great aroma that is not only easy on the palate, but most importantly... easy on your wallet.
And since Cheap Bastards don't even buy their own cutters, we've pre-punched the Churchill's and Gordo's for you.
Cheap Bastard Cigars come in five great sizes and 50 cigars per box!*
*Except the big fat Gordo...they come 24 per box.

You won't smoke a better cigar for the money. Anywhere. Anytime!

Calling all "cheap bastards"...your ship has arrived!

| | |
| --- | --- |
| | |
Factorydirectcigars does not sell tobacco or tobacco related products to anyone under the age of 21. If you are under the age of 21 please leave this website immediately. Factorydirectcigars is not responsible for misprints on the web site, we encourage you to email customer service with any questions prior to purchasing.