Product:

12602

Product:

12602

Factory Direct Cigars To You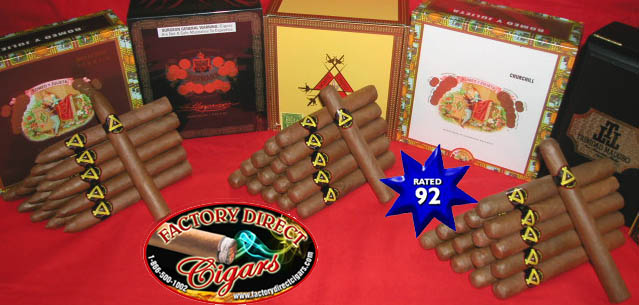 Factory Direct Cigars To You!

Normally intended to retail for between $119 and $175 when labeled and boxed with their famous name brands, these exceptional cigars are priced from...


-

FactoryDirectCigars.com is honored to have our label on cigars produced at such legendary Dominican cigar facilities of Tabacalera de Garcia, Tabacos Dominicanos, S.A, Manufacturer da tabacos (Matasa), S.A, Tabacalera A. Fuente y Cia...and many other world famous tobacco plantations. This golden opportunity to have our label on some of the finest tobaccos in the world was just to good to pass up. Overruns from many of the worlds most famous name brands allows our label to deliver the same incredible cigars at a mere fraction of their namesakes. If you are ready to experience the superior quality, construction, taste and aroma of fine premium cigars at huge savings over their originally intended name brands, then step right up...you are in for a real treat!

Same superior blends, wrappers, binders and fillers. The real difference you ask?
The label. That's it. Just the label. Not to mention a boatload of $avings!

Beautiful Connecticut Wrapper delivering a smooth mild/medium smoke.
20 fine cigars per bundle.

Churchill.....7x50
Toro Grande....6x54
#2 Torpedo......6.5x52
Double Toro.........6x60

No Goal Numbers To Reach ... In Stock Now ... Ships Immediately!


| | |
| --- | --- |
| | |
Factorydirectcigars does not sell tobacco or tobacco related products to anyone under the age of 21. If you are under the age of 21 please leave this website immediately. Factorydirectcigars is not responsible for misprints on the web site, we encourage you to email customer service with any questions prior to purchasing.