Product:

12942

Product:

12942

Royal Silk Cigars..Excellence
Our Popular Mega Buys Are
Hotter Than Ever!

You now have the power to purchase selected cigars at prices lower than ever before with quantity purchasing power. Now, here is the catch, some of the specially selected cigars offered in a particular Mega Buy may only be available if enough people sign up and agree to purchase the item at the discounted price. When the goal number is reached everyone who signed up will receive the item displayed for that incredibly low wholesale price. However, the majority of our Mega Buy specials are available for immediate shipping.
We will always inform you if a Mega Buy will be delayed until goal numbers are reached. Enjoy!
***************************

with years of experience...comes total cigar smoking pleasure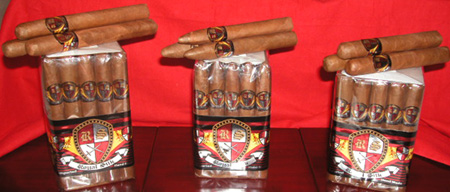 "Royal Silk" Cigars....
Experience Excellence
Decades of Cuban craftsmanship and experience have come together to create the Royal Silk Cigar. From the old Cuban rolling techniques to the genuine Cuban Triple Cap, you will immediately see and appreciate the superb quality of each and every Royal Silk Cigar. The premium Nicaraguan Habana binder and filler made with an exotic mixture of 3 year aged 100% Cuban Seed tobacco from Nicaragua and Costa Rica, make for one of the most complex and uniquely rich and flavorful cigars you will find anywhere. With the beautiful golden colored Ecuadorian Connecticut wrapper, the Royal Silk is a must for any aficionado that loves a sweet smooth mild to medium bodied cigar. The sweet cedar complex taste comes from the perfectly aged combination of premium long filler tobaccos and the 100% Cuban Seed tobacco grown in Costa Rica, Columbia and Nicaragua. Decades of Cuban craftsmanship have gone into every Royal Silk Cigar...including the genuine Cuban Triple Cap. Enjoy!
20 Ct. Royal Silk Cigar
Bundles
Natural Connecticut

Churchill...7x54
#2 Torpedo...6.5x52
Toro Grande...6x54

MSRP: $80 Special: $40.95
20 Ct. Royal Silk Cigars
Natural Connecticut
Humidified Travel Case
(Cherry with cedar lining)

Churchill...7x54
#2 Torpedo...6.5x52
Toro Grande ...6x54

MSRP: $129 Special: $52.95

Special Promotional Pricing
(only while cigars are in stock)

| | |
| --- | --- |
| | |
Factorydirectcigars does not sell tobacco or tobacco related products to anyone under the age of 21. If you are under the age of 21 please leave this website immediately. Factorydirectcigars is not responsible for misprints on the web site, we encourage you to email customer service with any questions prior to purchasing.