Product:

7125

Product:

7125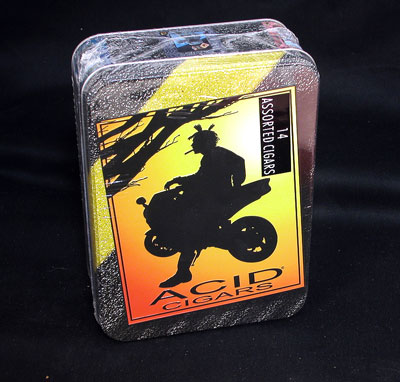 ACID Collectors 14 Ct. Cigar Sampler
QTY: 14
This limited edition collector's tin features a total of 14 cigars. ACID's greatest hits in a "scentillating" collection. This colorful tin contains 14 of ACID's most popular cigars, each handmade in the Cuban tradition with select tobaccos, flawless wrappers and 140 botanicals for a truly unique taste trip.
Re-adjust your head and order yours now.


1 Extra Ordinary Larry...6x60
1 Subculture Ming...6x60

5 Acid C-Note 4 x 20
1 Toast...6x50
1 Acid One...5x54
1 Kuba Kuba 5 X 54
1 Cold Infusion Tea...6.75x44
1 Acid Nasty 4 X 52
1 Atom Maduro...5x50
1 Blondie...4x38
Retail Price:
$80.60
Our
Price:
- You Save $18.92!

Factorydirectcigars does not sell tobacco or tobacco related products to anyone under the age of 21. If you are under the age of 21 please leave this website immediately. Factorydirectcigars is not responsible for misprints on the web site, we encourage you to email customer service with any questions prior to purchasing.