Product:

15104

Product:

15104

Golf and Great Cigars...a Natural Combination..Free Shipping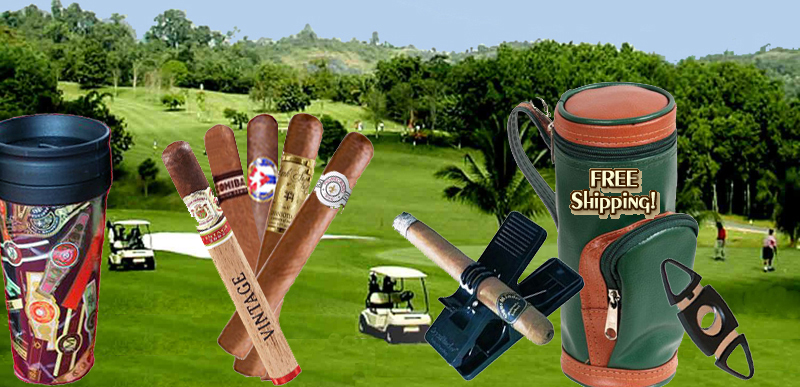 Some things just belong together...
Time on the greens and some awesome cigars are a natural!
We've put together a nice little package of five really great cigars along with a few accessories to make the day on the course complete. While we can't improve your swing...we're doing our best to make the day more enjoyable.
Let's start with a Five Ct. Sampler of top rated premium cigars...




Golf Bag Cigar Case with Humidifier

Almost as important as your Golf Club Bag itself, this handy miniature Club Bag doubles as a Cigar Case that is designed to protect and keep your favorite cigars humidified until you are ready to light up. Bag comes with it's own humidifier. Holds up to eight cigars and has a zippered pocket for your lighter and cigar cutter. Clips right onto golf bag or cart so it won't bounce off.
The "Cigar Minder" Clip

This all purpose cigar clip is just the ticket for holding that cigar when you can't. Protects your cigar from being stepped on, blown away, or just left behind. Not just a great golf accessory but is useful in so many applications when there is not an ashtray handy. Clips to almost anything.
Beverage Tumbler w/Cigar Label Collage

Keep it hot or cold with this sturdy insulated travel tumbler while on the go.Take along your beverage of choice in this 16 once colorful tumbler highlighting some of the worlds most recognized cigar labels.
Cigar Cutter and Disable Lighter

Dual S/S blade cigar cutter capable of perfectly clipping even those big boy cigars with a 60 ring gauge.

Torch lighter? It will certainly do the job of lighting your cigar.
Slim pocket fit, single flame refillable Butane torch lighter.
You can't go wrong with this terrific combination of great cigars and accessories along with

"Free Shipping"
for only...
Retail Price:
$99.60
Our
Price:
- You Save $41.60!

| | |
| --- | --- |
| | |
Factorydirectcigars does not sell tobacco or tobacco related products to anyone under the age of 21. If you are under the age of 21 please leave this website immediately. Factorydirectcigars is not responsible for misprints on the web site, we encourage you to email customer service with any questions prior to purchasing.